JEFFREY CHUANG FILM & VIDEO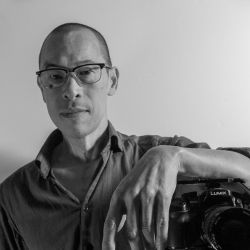 I do recall when, long before smartphones, home movies were shot on actual film - when Dad would lift the Kodak Super 8 camera from its special leather case (which I was not allowed to touch), and it was now (drum roll) "movie time"! Anticipation! Excitement! It felt like we were about to create something special, and indeed we were, even if it were only the documenting of a 6 year old's birthday party somewhere in Suburbia. Now Fast Forward.
Today the digital world has completely altered film and video making, from the equipment and on through the entire process... even to how the final product reaches its audience. But for me, the excitement still feels the same. When I take my own camera out of its bag, when I collaborate with people in front of and behind the camera, I still get that sensation of trying to create something special. And it's not the technology. Yes, the lenses and cameras you can get are amazing. The editing software - incredibly powerful and flexible. But in the end your most powerful tool is still your mind's eye. That's what informs more than anything else. How do you want to tell your story? What do you want to show, and why?
FILM/VIDEO PORTFOLIO
It turns out that a New York blizzard in February 2011 was the catalyst to push me (happily) into film/video (but that's another story for another time). Prior to that, my creative past was a checkered history, but for someone creating film and video, that may not be a bad thing at all. I worked in advertising for a solid decade, as an art director, graphic designer, web designer, and multimedia artist. I've also been an an illustrator, a photographer, exhibit designer, and a painter. All these creative skills, in subtle or not so subtle ways, you may see in my work, and they help me tell stories in ways that are more effective, powerful, and beautiful.
DESIGN, ILLUSTRATION & PHOTOGRAPHY
This page under construction. Please excuse our appearance while we renovate!