J. CHUANG FILM & VIDEO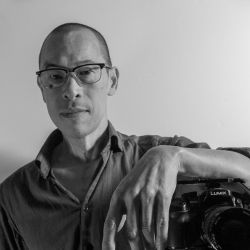 Don't you just love a good story? We all do. Even as children, one of the first ways we learn about and relate to the world is through stories, and as we grow we never stop hearing, telling, and creating them.
Of the many ways to tell a story, the one that has personally fascinated me the most is the medium of film and video. To reach others - to connect our experiences or emotions to those of others, the combination of moving images with sound can be the most effective, beautiful, and artful means to achieve that end. We all have experienced that powerful feeling of being riveted to a screen watching, mesmerized, as something that resonates with us unfolds. Whether carrying us through a challenging plot, or inspiring us with a profound message, or simply sculpting a feeling or emotion, there are few ways that can deliver so powerfully. This rich and complex medium requires a combination of art, craft, technical skills, and a large degree of faith... but when done in the right combination, the results can be truly inspiring and magical.
FILM/VIDEO PORTFOLIO
On many projects, I function in the role of what's known these days as a "shreditor" - I shoot it, I produce it, and I edit it - from start to finish. However, on other projects, collaboration can be key, and the right team can be assembled to meet the specific needs of any project. The work can range from documentary style, animation/motion graphics, corporate/institutional/instructional, to cinematic and narrative.
My background, previous to film and video, includes (in no particular order) illustration, web and graphic design, mural painting, multimedia, digital art/animation, and a dozen years in advertising.
DESIGN, ILLUSTRATION & PHOTOGRAPHY
This page under construction. Please excuse our appearance while we renovate!